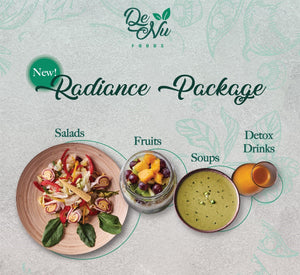 DeNu Foods
Women Radiance Package
Regular price
LE 975.00
LE 0.00
Unit price
per
The radiance package includes salads, soups, Greek yoghurt and detox drinks.

Benefits of radiance package:
-Intense detoxification of the whole body
-Healthier skin
-Anti-ageing
☆ Rich in powerful antioxidants, vitamins, and minerals
☆ Energising with metabolism-boosting (bio-available nutrients
Once you check out, our customer service will send you the Radiance package report with all details.
-Note: Shipping fees is PER DAY.
For further information, kindly contact us on 0111 847 1110
---